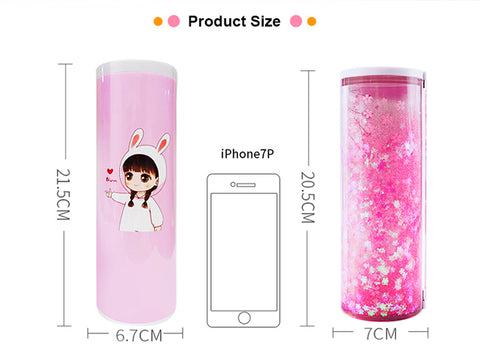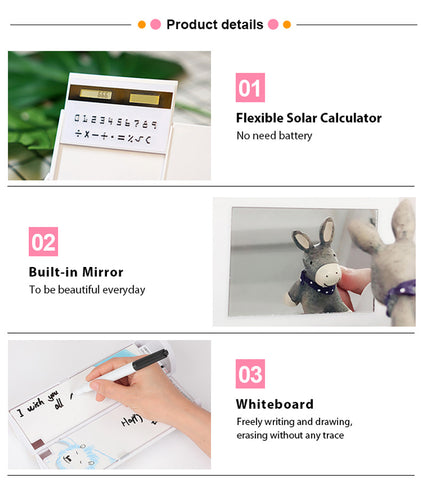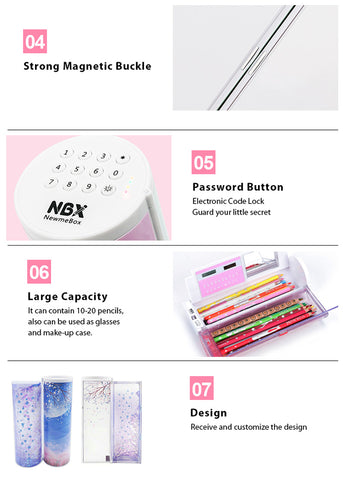 Material :
ABS plastic material, non-toxic and no odor
Package List:
1pcs Pencil case
2pcs black whiteboard Pens
7pcs color white board pens
1pcs Wiping cloth
1pcs Data line
1pcs Detachable calculator
1pcs timetable
FUNCTION-Big Capacity:
Lots of room, it can hold many pens, pencils, staples, erasers and other small items; Convenient to store crayons, fountain pen, and art paint brushes etc stationery storage and other office accessory, also can be used as cosmetic bags or accessory bag.
FEATURE:
Self-set password, USB charging, magnetic buckle combination, calculator, can wipe whiteboard
How to

unlock

the pencil case ?
1. Press the boot key, the red green and yellow LED lights flash once at the same time,

2. press the 4-digit password to pen the pen box (the initial password is 0000).

Note: If there is no action within 30 seconds, the password lock will enter the standby mode, and you need to press the power on key again to start.

It is recommended to charge for half an hour before the first use. If the battery is insufficient, it will close quickly when you enter the password and cannot be opened. Please charge in time.